Google doodle for today? Are you curious about to know what Google doodle for today does? From the past few years since 2010 Google has given us to wonderful option to celebrate a birthday and also we also can see Google has celebrating popular people's birthday on Google front page to honor them. let's learn about Google doodle for today.
It is special feature on the goggle that is provided to us. Maybe you have noticed Google has celebrated its birthday too.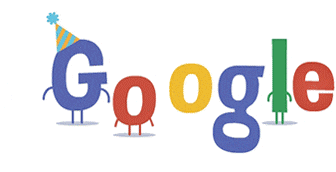 Let me share with my joy to you all. Yesterday, I had opened my laptop and was searching for something and it was showing some candle lights on the Google logo (Google Doodle). I was wondering, what is on my birthday. After that, I hover over to that doodle or image.  Surprisingly, it was my birthday doodle. Wow, I was surprised and I felt that I am an especial one.
Here, sharing with you the below that magical logo appears when I was doing something and gave a surprise to me.
How do I get my birthday doodle on Google?
Go to the homepage of the search engine you will find the Google logo looks like a birthday celebration.
When I was hovering over the mouse the text [Happy birthday (name)] showed on there.
And after that, if you click on that link Google will show all the important person's birthday on that day. And, important history of that date. So, you will be acknowledged. Hence, you can sharpen your mind too.
What is Google Doodle today?
What is Google Doodle today? A Google doodle is one of the products of Google that appears on the homepage, it is a logo that temporarily shows on special occasions instead of Google permanent logo on the Google homepage.
Furthermore, when we go for the search on the search engine on the Google homepage. we can see logos or Google Doodle on image or gif animation form. Time to time Google makes it more attractive, more informative and more interesting.
Google doodle was started first time in honor of the Burning Man festival of 1998.
Does Google know your birthday?
If you wonder how goggle finds out about your DOB. It is pretty simple to know about your birthday to Google.
To be honest, Google shows the result of a birthday based on the profile data of your profile. And let you know that Google only shows when you logged in.
Google started showing the Google Birthday Doodles in 2010 for all users that are logged in. there has been a different version of the Google birthday doodles.
Google doodles here you can see what Google has celebrated in the past.
That's how Google wished me on my birthday, are you also want to get this happy moment? If so, don't forget to log in your Gmail or Google account and go to the homepage of the Google you will see the surprise on your birthday. So don't miss this lovely opportunity to log in and visit Google for that.
Happy Birthday Google
Google has started to with doodle every year in the month of September.
Last year Google celebrated its birthday with letter-shaped balloons attached with a gift box. Tapping plays YT Videos that animated popular search from around the world.
Google birthday also coming on September 27th, hope it will give an amazing logo on that day. Let's wait what will come on the way.