Microsoft Edge App has updated an update for Android. Microsoft edge is light, easy, for the user. It's a product of Microsoft. We already know the Microsoft edge is super simple to use and it takes low space on your computer. Now supports read aloud feature on Microsoft Edge App
The journey of Microsoft Internet Explorer to Microsoft has been Updated so many things. So, it is going good on the android app and ios.
Here are some features Microsoft Edge App.
You can choose your settings for running more fast and securely by blocking unwanted ads.

Even, you can choose it in a reading view so you can only get it reading view if you want to center of attention to the work.

Use your device InPrivate tab for your safety on this tab your private history, cookies, and all do save on your device.
To clarify, it uses less RAM so it consumes quite less battery. Microsoft Edge update is giving the best with every new update. And then, you will get after Microsoft Edge browser is a good looking UI, with the stable version. And providing adblocker features.
Even, Microsoft Edge app update has been provided dark mode and updated for it to the app users. You can download it from the play store and use it. It also supports Android Q in updated version 4.0.3928.
Chrome has been already introduced and called a "chrome dark theme" on windows and in a Chrome version 74 and people loved it, we also can use Gmail in dark mode. So, dark mode is being popular in the youth.
Microsoft Edge For Andriod 10.
Microsoft Edge for Android 10 is a safe, fast and safe browser, we can use it in Android devices and to the PC on Windows 10 devices. It is pretty good to syncronize your work on both devices.
To do this process just log in your device and sync it, now you can work your wherever you like to do on your phone or windows 10 PC.
Microsoft Edge Download
Let's see how many people are using it Microsoft Edge downloads. After doing research, we can say that people are loving it due to slick design and lightweight It has got 4.5 awesome ratings with 24K reviews. Microsoft Edge download.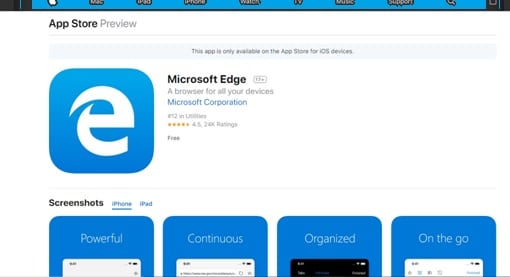 image source: Microsoft
we can use it all devices for Android and iOS phones. For IOS go to the app store and get it. Or, you can get it from here or Click here or visit Microsoft windows site now see the edge and provide your mobile number or email address they will provide you the link.  
Follow this for iOS
For android of play store link
Microsoft Edge for Android
Microsoft Edge for Android has got 4.3 ratings on play store and getting good reviews with some advisable review what could be done better.
Moreover, Microsoft Edge update is trying to give everything for the latest mobile browser experience with a private browsing voice search.
And  QR code reader also provided in Microsoft edge Microsoft read allowed will read it for you. Overall it can feel user interface is being super in every update.
Whereas, Microsoft Edge App is growing its popularity in the iOS is because of its features with sync favorites services between smarts phone to PC using the same id of Microsoft account.
In addition, Microsoft Edge mobile app for iOS is using WebKit engine the same engine which is used by safari, and with ANDRIOD, it is using the Blink rendering engine that chromium-browser using and more Chromium-based browser used such as chrome itself, Opera, etc.
Microsoft Edge update has been trying for some time. According to Softpedia, it has been downloaded 5 million times and, also we can see the positive reviews.
As much as, Microsoft has been trying to give a solid user interface with innovative features all in one with the Microsoft Edge browser for Android stable version. How ever, with this adblocker feature and dark mode, Microsoft Edge Update can get on android and iOS both.
Do you use the Microsoft Edge app for any device? what is your feedback regarding that? write your comment below.