Nepal telecom has been introducing as ntc data pack since recent years to their valued costumer; recently people are more engaged with ntc data pack of Nepal Telecom. And it's being popular among the youth. I should use it for various reasons when I am out of Wi-Fi, or I am out of my home, it is necessity to have data in the road or anywhere where we are out of Wi-Fi coverage.
How to get ntc data pack all the process below


To get data pack go to the phone and Dial *1415# on your phone dialer and PRESS the "call button" after that follow the more steps for which data you need for your requirement. Choose from the list of data pack with the numbers such as 1,2,3.. Choose and reply for each package after doing that you will get activating message and your data pack name duration of use and expire date etc.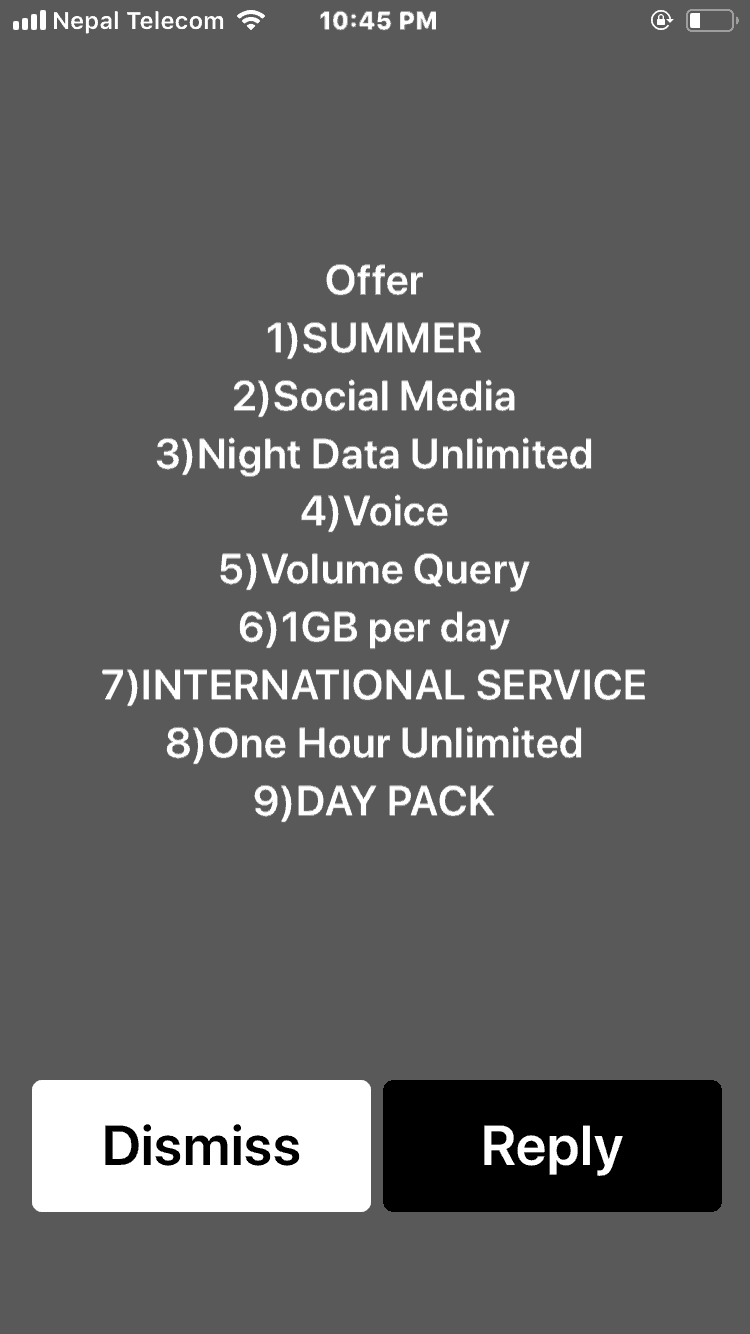 There are some varieties offers of ntc data pack
1. Summer
2. Social Media
3. Night data unlimited
4) Voice
6) 1GB per day
7) INTERNATIONAL SERVICE
8) One hour Unlimited
NTC DATA PACK SUMMER OFFER
NightData
Social Media
Streaming Pack
Voice (NT-NT Only)
1GB/Day
Night Voice (NT-NT only)
SMS
Now let's go inside the All Time Data
28MB @Rs12-1Day
100MB@Rs25-Day
90MB@Rs30-3Day
250MB@Rs60
500MB@Rs100-7Day
1500MB@Rs240-28Day
4500MB@500-28Day
12GBRs990-42Day
And now inside the NightData
Night pack (11pm-6am)
There are three options can be seen there
125mb@Rs9-1Day
5000MB@Rs250-28Day
Unlimited
This is the my best choice for surfing internet at night in cheap price and many like it too.
Night data unlimited pack during time 11pm to 6 am
7Night@Rs85
1Night@Rs15
This is the most popular one night data pack when someone wanting to use data pack in cheap price.
Social Media
Under this category you can use social media like Facebook, Whatsapp, Instagram, Twitter so on
36MB @Rs6 for 1 Day
190MB @Rs30 for 3 Day
400MB @Rs60 for 7 Day
Streaming data pack
On this pack you can watch videos such as YouTube Videos or any other streaming website.
150MB @ Rs12 for aDay
400MB@Rs30 for 30Day
900Mb@Rs60 for 7Day
Voice NT to NT Only
By using this ntc data pack you can call another Nepal telecom user for cheaper price.
14Min@Rs12 for 1Day
40Min@Rs25 for 7Day
40Min@Rs30 for 3Day
75Min @ Rs 60 for 7 Day
190Min @ Rs 100 for 7 Day
490 Min @Rs 240 for 28 Day
1100 Min @ Rs 500 for 42 Day
1GB Per Day
As a data name 1GB/Day can know we can use this 1GB data per day we get with 20 min streaming for YouTube
There are 3 Options
1GB @ Rs 45
7 GB @ Rs 250
28 GB @ Rs 850
Night voice (NT-NT Only)
You can get night voice pack with Nepal Telecom Network only time frame between (10 Pm to 6am)
40 Min @ Rs 6 for 1 Day
170 Min @ Rs 15 for 3 Day
340 Min @ Rs 30 for 7 Day
Unlimited Voice @ Rs 12 for 1 Day
SMS PACK
20 SMS @ Rs 5 for 1 Day
70 SMS @ Rs 15 for 7 Day
300 SMS @ Rs 60 for 28 Day
Furthermore , Nepal Telecom has prodivng cheap price for india and china call and also we can get Roaming activing service when we go abroad.
INTERNATIONAL SERVICE
India /China Call Pack
Roaming Service
India call
15 MIN @ Rs 35 for 1 Day
65 Min @Rs 150 for 7 Day
215 Min @ Rs 500 for 30 Day
China Call Pack
10 Min @ Rs 35 for 1 Day
45 Min @ Rs 150 for 7 Day
165 Min @ RS 500 for 30 Day
ROAMING SERVICE for GSM Prepaid:
Activation
Deactivation
One Hour Unlimited Pack with Data+Voice+SMS @ Rs 20
With this offer pack can use service for 70 Min unlimited voice call + unlimited SMS and mobile data for 1 hour without any problem.
Day Pack offer Options
90 min voice call @ Rs 9 (5 am -5 pm)
65MB @Rs 9- (6am -6Pm)
Read This for call only in 70 paisa per Min.
For volume Query
How to check how much data or voice remaing in your ntc network
*1415# and follow the number
Or direct *1415*5#
And press call button it's easy
Or second option is that you send sms by typing this code VL and send it to 1415.
These all are ntc data pack for the data, voice, SMS with including international service offer for Summer 2026/2019 and Offer can be change or NTC trying to provide more easy options time to time.